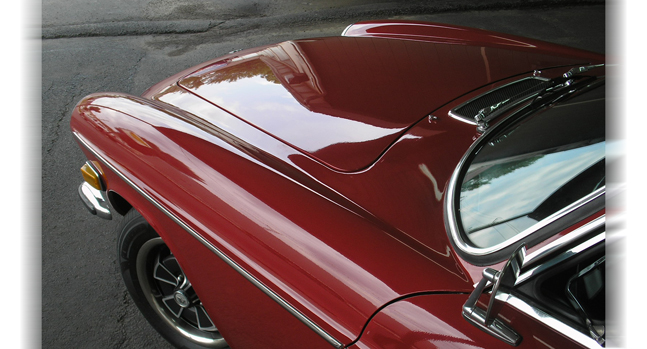 David in Germany – 1971 Volvo 1800E
I have worked with 6 companies to inspect 7 vintage cars I purchased and not one compares to Pittsburgh Vehicle PPI. Brian spent time with me on the phone to review every detail to make certain I understood his service versus others. My initial thought was how different can the service really be. Simply stated, like night and day. Brian is professional, sends proper quotes and adheres to his commitment. His report was extensive, pictures of every aspect of the car were clear and accurate with the description. His cost was extremely fair. The dealer I purchased the car from said to me he has never seen someone take the time Brian took to go through the car. I bought the car and it is being shipped to Germany next week. I give Brian 5 Stars out of 5.
Dave in Massachusetts – 1957 Cadillac Series 62 Coupe
Your professionalism in inspecting the Cadillac, providing the documentation and pictures and then communicating the findings in a clear and concise manner were second to none. I have utilized a number of inspectors all over the country for pre-purchase inspections of vintage automobiles during the last 10 years and you have been the best by far. When the seller agrees with me that the service you provided was thorough and fair, it makes the car buying experience much more enjoyable. Best regards and thanks for a job well done.
Josh in Texas – 1969 Chevrolet Camaro Pace Car
We used Pittsburgh Vehicle PPI for an unrestored Camaro. They did a wonderful job of accurately representing the condition of the car, and for a very reasonable fee, verified the claims made by the seller. They went above and beyond my expectations, including returning my calls after hours. The car purchase was completed based on their confirmation of the seller's claims, and upon arrival to Texas, we found the car to be exactly as described by Pittsburgh Vehicle PPI. I would highly recommend Brian and his company to anyone purchasing a vehicle.
Tony in California – 1958 Jaguar XK150
I had an excellent experience with Brian at PVPPI in the evaluation of the condition of a vintage Jaguar. Brian was attentive and timely in all of our dealings on the car, and provided a detailed and objective report with many pictures which were invaluable.
Alan in Illinois – 1970 Dodge Challenger R/T
Thank you for your professionalism and thorough inspection of a vehicle I had considered buying. Your inspection revealed several flaws that were not disclosed by the seller and additional red flags were raised by your point by point analysis. Your service saved me from what would likely have been a very disappointing purchase.
Earl in Nevada – 1957 Chevrolet Bel Air
After locating a 1957 Chevy for sale in Pittsburgh I contacted PVPPI for a pre-purchase inspection. Brian wasted no time in contacting the owner and inspecting the vehicle. Using the 84 pictures he took, we had a very thorough discussion of the condition of the vehicle. Having an inspection is a must, and I'm glad I found a trustworthy professional like Brian at to do it for me.
Robert in Virginia – 1971 Oldsmobile Cutlass
I was looking to purchase a car in Pittsburgh but my schedule did not allow me the opportunity to inspect the car. I saw Brian's website and he was actually pretty close to where the vehicle was located. He did a great job and he actually helped me save a lot of money. I would definitely recommend his services. Once he does the report and takes the pictures, you can call him and he will go through the report with you. Pay him and save thousands.